Our Services
   Inbound Call Center Services    |    Call Center Outsourcing  
  Healthcare Call Center    |    US-Based Call Center  
    Customer Service Outsourcing |  Answering Service
Customer Elation offers our clients first-class call center services.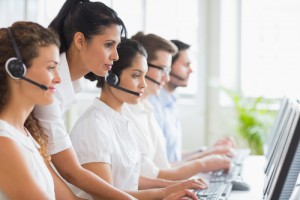 Our state-of-the-art technology and proven call management processes allow us to provide custom-designed programs to each of our clients. From order-entry and payment processing to level one trauma center calls, our call center services have supported programs that span across industries. All of our scripts and processes are constantly analyzed to improve escalation paths and efficiency.
Often, we find that executives assume that call center outsourcing is not a viable option. Trusting your brand and reputation to a third-party can seem unrealistic. However, Customer Elation has spent decades working with companies with those same thoughts. The depth of our call center programs ensures that each customer interaction is managed from the top down to support brand messaging, proper protocols, and  satisfied callers.
Our clients love working with us because we provide responsive, attentive customer care with a solution-based model aiming for first call resolution. The ability to solve problems and answer questions on the first call enhances a client or patient's experience and improves their affinity to your brand.