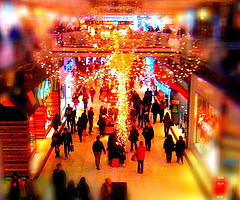 'Tis the season for holiday shopping! Most of us are involved in some sort of gift exchange, whether it be between friends, family, or a mixture of both. As we all begin to brace ourselves for the influx of holiday movies and decorations, there is a fight going on—a fight for the most popular toy this holiday season. However, it might not be much of a fight after all.
It comes as no surprise that the Disney's Frozen Castle and Ice Palace Playsets are flying off the shelves this holiday season. After Frozen's tremendous success, grossing a whopping $1.219 at the box office, parents are scrambling to buy merchandise from the popular movie. People are so desperate to get their hands on the Castle and Ice Palace Playset that they are willing to pay anywhere from $119 to $700! Frozen merchandise accounts for an astounding 20% of toys bought for girls, and retailers are struggling to keep any Frozen toys on the shelf.
Other popular gifts currently on the market are the Max Tow Truck and Imaginext Supernova Battle Rover. People who are able to get their hands on these hot items are selling them on Amazon for over one hundred dollars apiece. Consumers are left with a feeling of disappointment as demand increases and supply becomes scarce. What do the experts suggest to ensure that you get your hands on a popular gift? Start shopping earlier and earlier every year.