During Christmas time, you can't always make it out to the malls and wait in long lines for your child to see Santa. Many mobile apps are just a standard, prerecorded message that pauses five seconds to wait for your child's name and Christmas list. We want to help you find the best ways to call Santa outside the shopping malls. Here are three of the top quality ways for your child to get in touch with Santa over the holidays.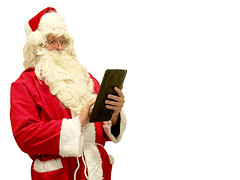 Santa's Magic Phone Call & Text It's a free app for both Apple and Android devices. The app has many features from recording your child's "voicemails to Santa," sending texts and several, prerecorded, Santa messages and Christmas-themed activities. The mobile app offers in-app purchases for more Santa messages and Christmas games.
My Free Call From Santa Available on both Apple and Android devices. The app provides one free personalized phone call from Santa Claus created by Packagefromsanta.com. The app requires that you create a free packagefromsanta.com account and it is only one free call with additional calls costing $4.99.
Hello Santa From JibJab Bros. Studios, Hello Santa is a video service that allows your child to receive a live video call from Santa Claus. You can either video call on your mobile device or on your computer. A live video call from Santa is $9.99 or you can have Santa send a personalized video message for the same price.
These call Santa options give kids several opportunities to connect with The Big Man himself!